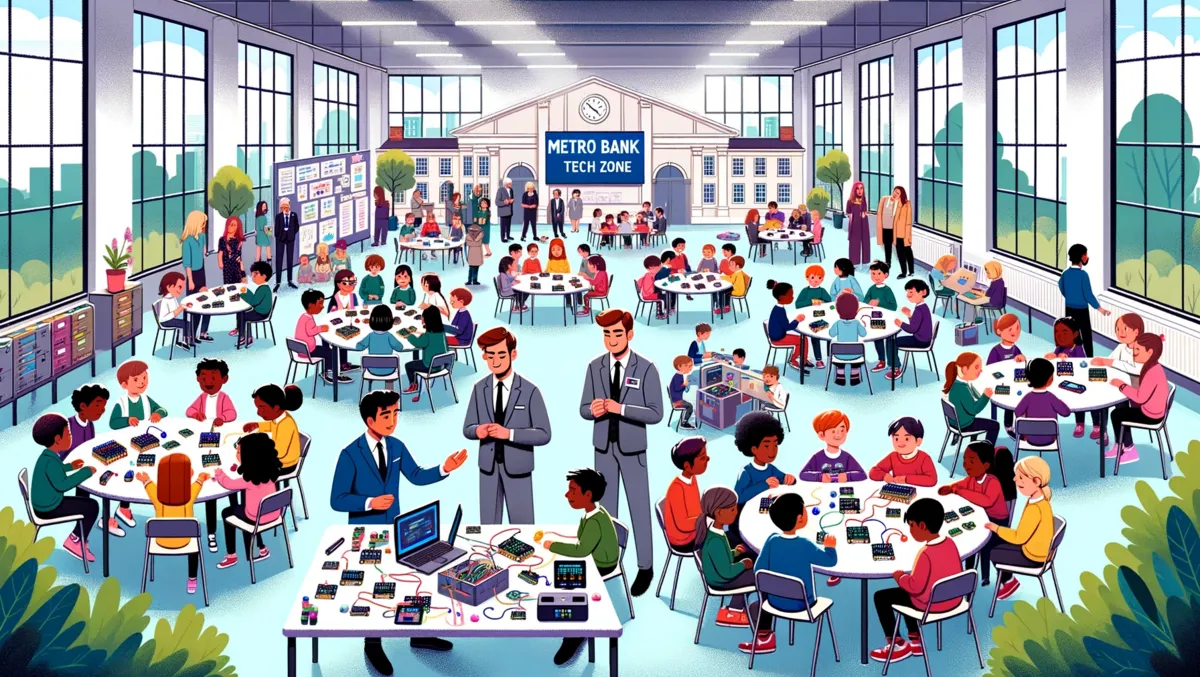 Metro Bank's 'Kids Play' initiative fosters tech skills in deprived London children
Tue, 24th Oct 2023
By Sean Mitchell, Publisher
Kids Play, a new initiative by Metro Bank, is providing primary school children from some of the most deprived parts of London with the tech skills they need to excel in an increasingly digital world. The bank created Tech Zone, a series of tech workshops aimed at teaching learners aged 8-11 basic coding skills. An initiative of the bank's Engineering & Transformation Team, led by Chief Information Officer Faisal Hussain, the programme saw the bank running 16 sessions at seven participating schools.
The micro:bit, a tiny computer featured on the BBC's Make It Digital initiative, served as the tool for instruction. With a range of sensors and capabilities, from buttons, LED lights, temperature sensors, and more, micro:bits are easy to programme using simple drag-and-drop blocks. However, they also have the capacity for more advanced coding. Students were introduced to this versatile tool and got to keep the devices to continue learning and potentially teach their families.
Metro Bank partnered with STEM Learning in the lead-up to the programme. This comes in line with the bank's efforts to become accredited as a STEM organisation and widen its training to reach a broader community. Some of the bank's colleagues, such as Chris Stringer, Alex Cotelin, Gemma Kervaon Taylor, Nirav Parmar, and Darsha Shah, took up the roles of trainers, delivering interactive programming sessions at the schools.
According to Faisal Hussain, Metro Bank's CIO, the initiative aspires to nurture the next generation of engineers. "Our ultimate aim is to create future engineers by generating excitement about careers in engineering and wider tech through awesome tech role models - namely our colleagues", said Hussain. The programme succeeded in providing over 300 participants with hands-on technical training and certification.
Metro Bank plans to expand the programme in and outside London in the future. The ultimate goal is to motivate the students and provide them with applicable skills. The initiative hopes to "provide the students with the experience of using and building technology; improve knowledge in STEM subjects with a hands-on, interactive learning experience; lay the foundations of agile engineering development", explained Hussain.
Gemma Kervaon Taylor, Platform Analyst at Metro Bank, highlighted the impact she observed in the kids. "This has been an amazing experience going into the schools and seeing the excitement on the kids' faces," she said. "The final quiz shows their comprehension and just how much they have enjoyed the session."
There has been overwhelmingly positive feedback to Tech Zone. With various pupils asking, "Can we do this every week?" and teachers requesting that the bank teach them so they can run such sessions, it is evident that the initiative is making a real difference in these children's lives.