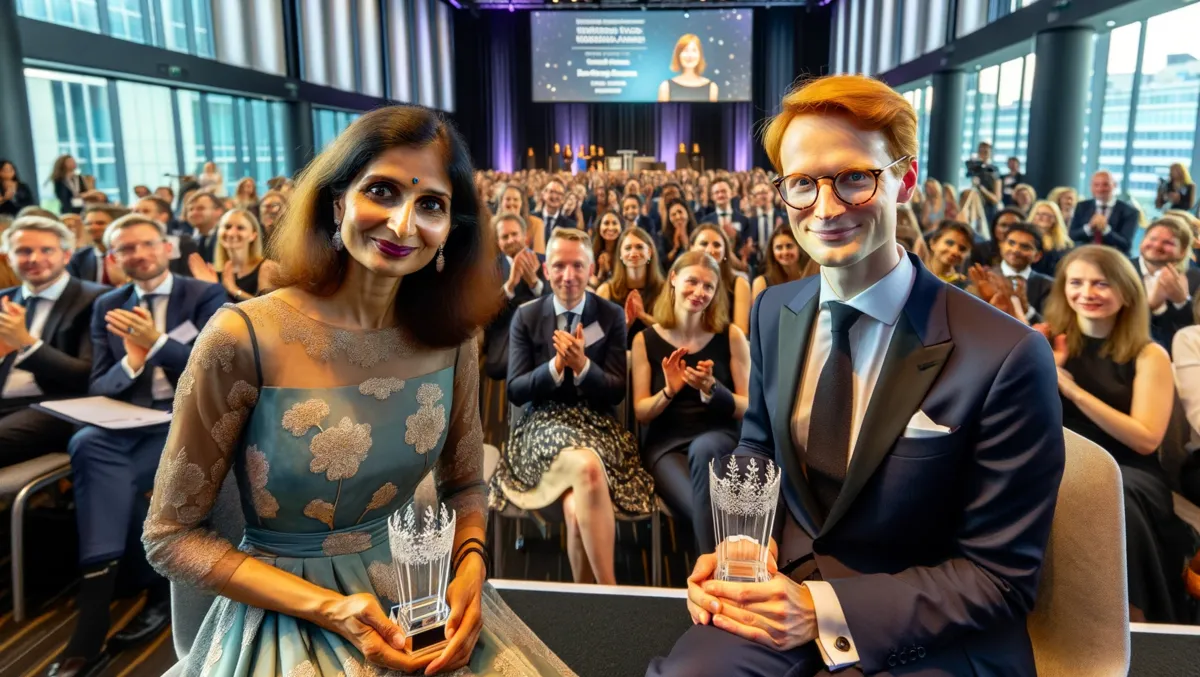 Aston University women triumph at Midlands Women in Tech Awards 2023
Sat, 14th Oct 2023
By Sean Mitchell, Publisher
Two pioneering women from Aston University in Birmingham have scooped up honours at the acclaimed Midlands Women in Tech Awards 2023. The awards ceremony, held at the Eastside Rooms in Birmingham, recognises the extraordinary achievements and contributions of women in the tech sector.
Noteworthy cyber security experts, Professor Vladlena Benson and Dr Anitha Chinnaswamy, from Aston University, were lauded at the prestigious event which saw more than 400 nominations. Both emerged as winners for the Academic Award and the Tech For Good award respectively.
The Midlands Women in Tech Awards aims to cast a spotlight on the significant role of women in the typically male-dominated technology industry. By recognising the achievements of female tech professionals, the awards strive to motivate more women to pursue careers in technology and inspire the next generation of female tech leaders.
Professor Vladlena Benson was the victor of the Academic Award, which is conferred to a woman in academia whose notable contribution to technology has made or is projected to make a considerable long-term impact. She was recognised for her work at the Cyber Security Innovation (CSI) Research Centre at Aston University.
Receiving the honour, Professor Benson acknowledged: "Receiving the Academic Award is an honour and a testament to the collective effort of our CSI team, stakeholders and colleagues at Aston University. This recognition fuels my commitment to advancing cyber security innovation and contributing to our 2030 Digital Futures Strategy. I am grateful for the support from the Aston University community and Midlands Women in Tech Awards for spotlighting the achievements of women in technology."
Dr Anitha Chinnaswamy was the proud recipient of the Tech For Good Award which honours individuals or organisations that utilise technology to improve people's lives and promote a better world. She was awarded for her work done at Aston Business School.
An elated Dr Chinnaswamy stated: "I am deeply honoured and incredibly grateful to have been awarded the prestigious Tech For Good award. It's actually a symbol of the collective effort from our amazing CSI team, and our stakeholders and all colleagues from the wider Aston University community. I am humbled and proud to be an ambassador for the Aston brand and look forward to the Centre and I contributing towards the aspirational 2030 Digital Futures Strategy."
Professor Zoe Radnor, Pro Vice-Chancellor and Executive Dean for the College of Business and Social Sciences at Aston University, commended the duo saying: "We are immensely proud of Professor Vladlena Benson and Dr Anitha Chinnaswamy for their well-deserved recognition at the Midlands Women in Tech Awards 2023. Their achievements exemplify the exceptional talent and dedication of women in the tech sector. These awards not only celebrate their outstanding contributions but also serve as a beacon of inspiration for the next generation of female tech leaders. Aston University remains committed to fostering an inclusive environment that empowers women in technology and we congratulate our esteemed experts on this well-deserved honour."