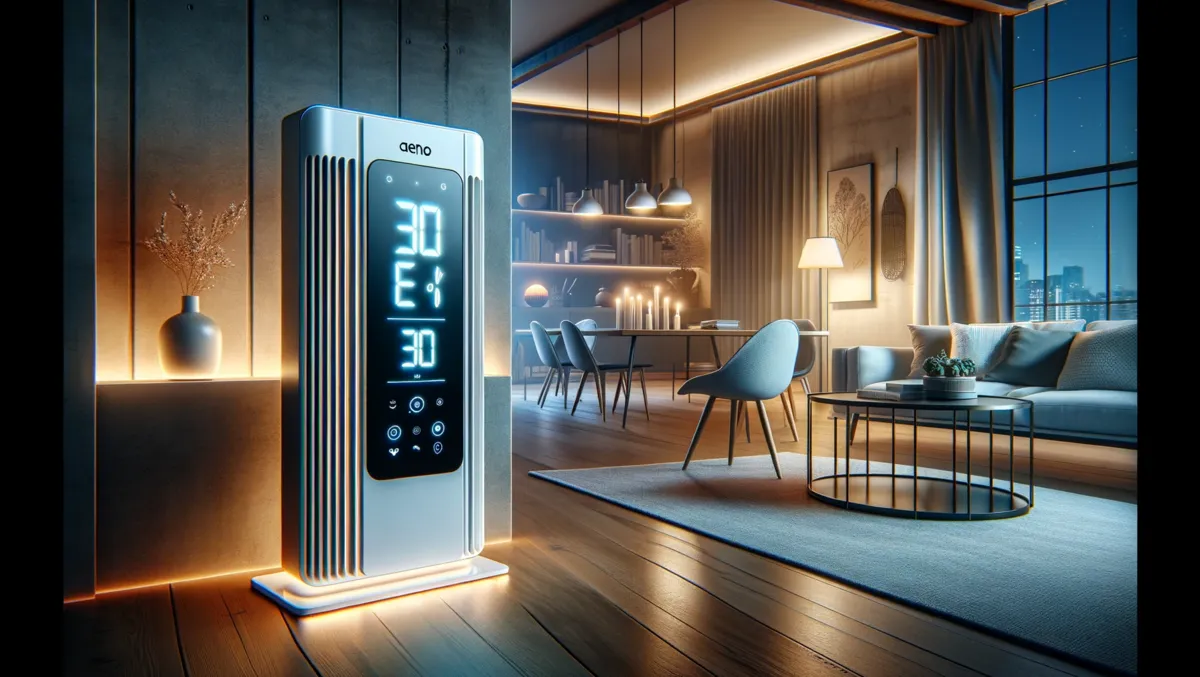 AENO's premium Eco Smart LED Heater: Revolutionizing home heating
Fri, 13th Oct 2023
AENO, the leading brand in home appliances, is revolutionising home heating with the unveiling of its new model, the AENO Premium Eco Smart LED Heater. Already a trailblazer in the field with its advanced smart heating technology, AENO supplements its array of award-winning heaters with this groundbreaking new release.
Representing the very latest in home heating innovation, the AENO Premium Eco Smart LED Heater is equipped with an all-new digital LED display and four accessible buttons. Users can enjoy key features such as a temperature screen displaying current and room temperatures set by the user, a SMART mode button for economic heating, adjustable higher and lower temperature settings, and the inclusion of the distinctive aluminium power button. The brightness of the LED screen can be tailored for night mode comfort as well as options for auto turn-off of buttons and screen via an app.
Consistently at the forefront of the home appliance industry, AENO is renowned for delivering products of superior European quality and cutting-edge technology. The brand is dedicated to evolving and expanding its product categories to cater to rising consumer demands. The newly launched AENO Premium Eco Smart LED Heater epitomises its commitment to delivering innovative, energy-efficient home appliances, which seamlessly blend connectivity and convenience.
Designed to amalgamate style and functionality, the AENO Premium Eco Smart LED Heaters come loaded with intelligent features that revolutionise conventional perceptions of home heating. They are equipped with advanced sensors and modern technology to adapt to user preferences, guaranteeing optimal comfort.
The digital display and button controls are intuitively designed for easy navigation, even in the dark, exemplifying AENO's commitment to simple and accessible user experience. The ultra-thin design, premium materials, and stylish LED display make the heaters an attractive addition to any home. Available in Glossy White, Pearl Black, and the new Noble Grey, they blend effortlessly into any interior décor.
Users can choose their preferred control method: the heater can be operated remotely via a mobile application, voice assistants, or through the physical control unit. Equipped with Wi-Fi connectivity, the heater allows for real-time monitoring of energy usage and temperature adjustments. Voice control features are compatible for home use with Google Home or Amazon Alexa, adding to the convenience for users.
The AENO Smart Heaters come with a standout SMART Mode feature tailored for energy conservation. Once the room reaches the set temperature, this mode ensures the heater automatically switches off, saving electricity while maintaining a comfortable temperature. The heating efficiency of the AENO heaters outperforms other types of heaters and heating methods
Safety is paramount for AENO, and the latest heater model includes built-in safety attributes such as child-lock, overheat protection, and a sensor indicating if the heater tips or falls.
Andre Kazennau, Business Development Manager for Heaters at AENO, expressed his excitement for the fresh product launch, stating, "with the launch of our Smart Heaters, we are taking comfort and convenience to a whole new level." He added, "Our heater models are a masterpiece of product design… we hope that the new model will be just as successful and will complement this product category by expanding the choice for customers."
The AENO Smart Heaters are now available from B&Q and Appliance Warehouse, offering an ideal opportunity to enhance home heating systems for the upcoming winter.