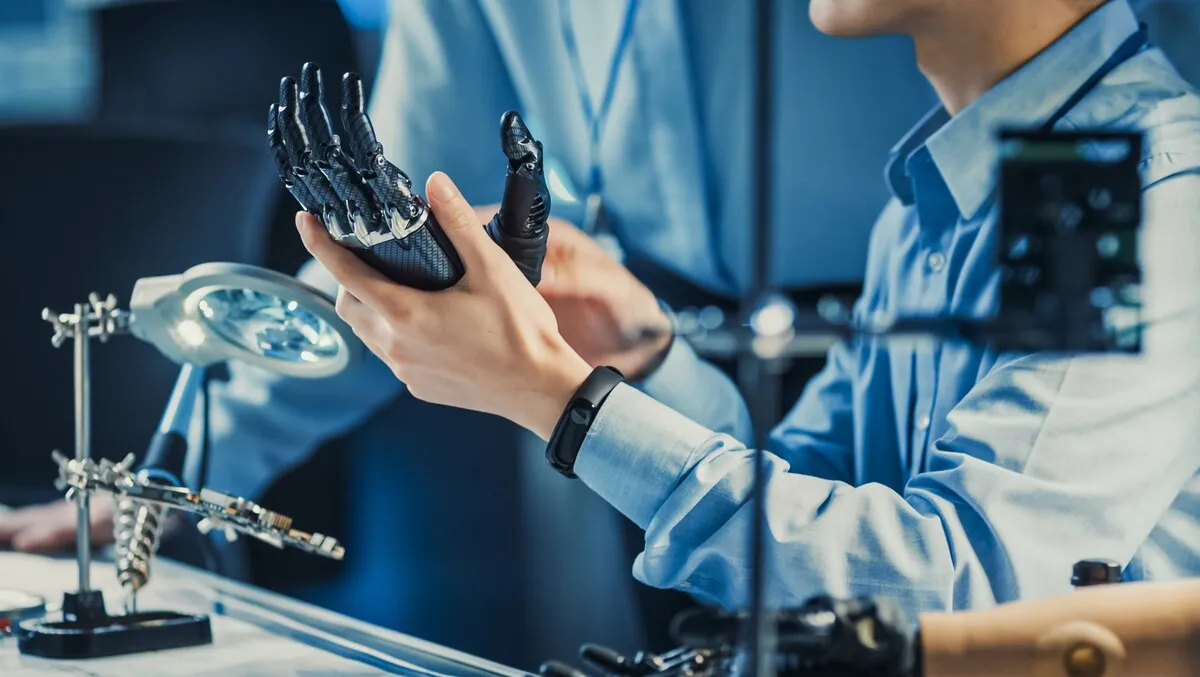 Accelerating the robotics revolution with AI technology
AI is making robots simpler to use at the same time as it enables them to tackle more complex tasks. This winning formula paves the way for a fresh surge of robotic automation.
The deployment of industrial robotic systems is growing globally, but the arrival of artificial intelligence (AI) looks set to push this growth to the next level.
According to online resource Statista, the size of the industrial robotics market worldwide was already around $55 billion in 2020 and is projected to surpass $165 billion by 2028. Furthermore, the aftermath of the Covid pandemic and war in Europe have created extra business uncertainty and left almost every industry facing fragile supply chains and volatile energy costs. These challenges, combined with ongoing labour and skills shortages, changing customer demands and climate change, are driving more businesses to explore the added flexibility, resilience and sustainability that robotic automation provides.
But it's not just the positive benefits of robots that are transforming the market. The addition of AI to the automation toolkit looks set to break down much of the resistance previously shown by potential users across industry, effectively taking the brakes off future growth. That's because the technology behind AI-driven solutions may be smart and complex, but its impact in practice will be to make robots much easier to train and use.
Fast and flexible
In 2020, an ABB survey of industrial companies showed why ease of use is such a critical consideration for market growth. The survey found that almost one in three (31%) respondents who had not invested in robots cited a lack of technical knowledge or a belief that they are difficult to use as a reason to avoid them. Today, AI can effectively counter this perceived skills shortfall.
AI-enabled robots can see, act and reason in the world around them, completing tasks too varied and complicated for traditional programmed robots. These robots engage in reinforcement learning, adapting to new tasks on their own and paving the way for new opportunities and applications.
As the AI-driven software and controllers used to program robots become smarter and more user-friendly, we can expect to see robots being deployed in far greater numbers in applications outside of the traditional manufacturing and distribution environments where they have been chiefly deployed until now. Industries such as electronics, healthcare, e-commerce, pharmaceuticals and food service will all become major users.
This gradual process of simplifying robotics for users will increasingly result in the deployment of digital networks and open platforms to enable quick and easy integration of robots, controllers and software from different vendors. For instance, ABB's OmniCore controllers have been created to make robots more open and connected.
Leading by example
ABB has been championing the industrial AI cause for some time. In 2020, for instance, the company announced a partnership with Silicon Valley AI start-up, Covariant, to bring AI-enabled robotics solutions to market. The initiative began by developing fully autonomous solutions for warehouse order fulfilment, and that was soon followed by the first installation of an ABB/Covariant AI-enabled solution at Active Ants (part of the bpost group), which is a leading provider of e-commerce fulfilment services for web businesses in Utrecht in the Netherlands.
Since then, many AI and vision-based robotic installations have been related to sorting and picking, where the ability to handle a variety of objects in a relatively unstructured way is proving invaluable.
For example, ABB's Robotic Item Picker is a pre-configured solution to boost the productivity of warehouse and fulfilment operations across sectors such as e-commerce, logistics and healthcare. Featuring a robot, suction grippers, and a proprietary machine vision sensor, the Item Picker fully automates complex tasks for cuboids, cylinders, pouches, boxes, poly-bags and blister packs, among others. In the past, only human operators would have had the dexterity and flexibility to deliver this level of adaptability.
Last year, ABB launched its first range of Autonomous Mobile Robots (AMRs), following the acquisition of mobile robot leader ASTI Mobile Robotics in 2021. As the name suggests, AMRs can move untethered around a facility rather than being confined to a single production cell in the way that a robot arm would be.
The autonomous navigation technology powering ABB's range of AMRs is already enhancing productivity while making operations faster and more flexible. Solutions like these enable manufacturers to move away from traditional production lines towards modular production cells while optimising the delivery of materials, tools and components between cells and across facilities.
A fresh vision
In the latest advance, ABB Robotics is transforming its AMRs with the addition of Visual Simultaneous Localisation and Mapping (Visual SLAM) technology, enabling them to make intelligent navigation decisions based on their surroundings. Using AI-enabled 3D vision to perform location and mapping functions, ABB's Visual SLAM AMRs make production faster, more flexible, efficient and resilient while taking on dull, dirty and dangerous tasks so people can focus on more rewarding work.
Visual SLAM combines AI and 3D vision technologies to guarantee a superior performance compared to other guidance techniques for AMRs. Offering significant advantages over inflexible forms of navigation such as magnetic tape, QR codes and traditional 2D SLAM - which all require additional infrastructure to function - Visual SLAM AMRs are being deployed to handle an expanding range of production and distribution tasks.
Crucially, this additional autonomy and intelligence also allow the new AMRs to operate just as safely as their predecessors in dynamic, human-populated environments, despite their added freedom.
Visual SLAM uses cameras mounted on the AMR to create a real-time 3D map of all objects in the surrounding area. The system can differentiate between fixed navigation references, such as floors, ceilings and walls that need to be added to the map, and objects, such as people or vehicles that move or change position. The cameras detect and track natural features in the environment, enabling the AMR to dynamically adapt to its surroundings and determine the safest and most efficient route to its destination. Unlike 2D SLAM, Visual SLAM requires no additional references such as reflectors or markers, saving cost and space and offering accurate positioning to within three millimeters.
By eliminating the need to change the environment, stop production, or add infrastructure, Visual SLAM technology helps to reduce commissioning time by up to 20% compared to 2D SLAM, significantly reducing the time needed to introduce a new AMR into the existing fleet. The technology can also be deployed at scale, thanks to the ability to update entire fleets remotely. The technology analyses raw data only, with no visual images saved on either the AMR or on a server.
ABB developed Visual SLAM AMRs in collaboration with partner Sevensense Robotics. The technology will initially be incorporated in ABB's latest generation AMRs - the AMR T702V and the AMR P604V – before the end of the year. These will then be followed by other Visual SLAM AMR products, which will be rolled out up to 2025.
Visual SLAM technology is already being deployed in industrial projects for customers in automotive and retail.
Complexity made simple
While AI is making robotic automation solutions easier to use, these systems are expected to carry out increasingly complex tasks. For instance, some of the latest developments in AI are powering autonomous grasping and positioning, which is making robots ever more dexterous. At ABB's Robotics Mega Factory in Shanghai, new capabilities have enabled robots to be tasked with complex assembly and screwdriving tasks, which effectively means that the AI-powered robots are now busy building the next generation of new robot models.
The roll-out of AI and autonomous technologies at scale is one of ABB's top three predictions for robotics in 2023, thanks to AI's ability to make robots easier to use, integrate and access. This enables them to take on more tasks in new industries.
Autonomous technologies will continue to make robots in established applications easier to program, operate and maintain. Just as importantly, they will also give many more companies the confidence to make their first investments in robots or find ways to deploy them in new applications.